Address: 1 Hinton Way, Great Shelford, Cambridge England CB22 5AX UK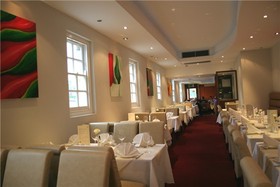 Zara Shelford Restaurant Review
Zara is a welcoming, buzzing (especially on Friday and Saturday nights) Indian cuisine restaurant with professional, attentive and friendly staff. It is based at Shelford train station right alongside the railway track.
Lunches and other evenings are relaxing and calming experiences with delicious food and excellent service.
Thier house specialities include Chicken Al Badami (a mango-flavoured, creamy curry which is very good) and the tasty Chicken Jaipuri.
We have tried the Dhansak, Jalfrezi, Korahi and Balti dishes and all are delicious and of a very high standard.
Side dishes include the usual suspects – Bindi Bhajee (Okra) and Saag Bhajee (spinach) are excellent choices.
The paneer shashlik at Zara is a recommended choice, too – and not just for vegetarians, either.
In terms of drinks, they have Kingfisher beer on tap and a range of wines available. Spirits, too. We were given complimentary brandy and After Eight mints at the end of meal, which is a nice touch.
Zara also runs a busy and efficient takeaway service.
The restaurant's quality is reflected in the regular British Curry Awards nominations (and award wins). It's spotlessly clean, too.
This restaurant is highly recommended.