When you need a bike that is good for on and off the beaten track, the solution is to find a decent mountain bike. Ridgeback have been making bikes since the early 1980s and are a worthy contender.
Here is our Ridgeback Terrain 3 review for the 2021 model of this addition to their range.
Spec & Cycling Types it's Good For
The Terrain 3 comes with front suspension, which is a feature that a lot of occasional mountain bikers see as an absolute must-have. The frame of this bicycle is made of aluminium, as you might expect with modern mountain bikes.
With 21 gears to choose from, it's surely enough for any cycling situation. The majority of people tend to use a much narrower range, especially in relatively flat landscapes. However, it's all there should you need it.
Ridgeback has equipped the Terrain 3 with the tried-and-tested Shimano drivetrain. This bike is designed to be an easy ride for beginner mountain bikers and those more experienced who like the comfort of wide, grippy tyres and that more forgiving suspension.
It's certainly a comfortable ride.
Terrain 3 Mountain Bike Dimensions
This bike comes in five sizes, so can be suited to most varying ages and body shapes.
Here are the different versions of this bike:
Ridgeback Terrain 3 Mountain Bike Size Comparison
| | 13 Inch | 15 Inch | 17 Inch | 19 Inch | 21 Inch |
| --- | --- | --- | --- | --- | --- |
| Frame Seat Tube | 13mm | 15mm | 17mm | 19mm | 21mm |
| Frame Top Tube | 570mm | 590mm | 610mm | 630mm | 650mm |
| Frame Reach | 393mm | 413mm | 430mm | 447mm | 464mm |
| Frame Stack | 581mm | 581mm | 590mm | 599mm | 608mm |
| Frame Head Tube | 100mm | 100mm | 110mm | 120mm | 130mm |
| Frame Head Angle | 67 degrees | 67 degrees | 67 degrees | 67 degrees | 67 degrees |
| Frame Seat Angle | 73 degrees | 73 degrees | 73 degrees | 73 degrees | 73 degrees |
| Frame BB Drop | 40mm | 40mm | 50mm | 40mm | 40mm |
| Frame Wheel Base | 1088mm | 1109mm | 1130mm | 1151mm | 1172mm |
| Standover | 728mm | 750mm | 778mm | 807mm | 835mm |
| Stem Length | 75mm | 75mm | 75mm | 75mm | 75mm |
| Handle Bar Width | 720mm | 720mm | 720mm | 720mm | 720mm |
As can be seen from the comparison table above, the frame head angle and frame seat angle are consistent across all sizes of the Terrain 3 at 67 and 73 degrees respectively. The other factors that remain constant are the length of the stem and the width of the handle bars.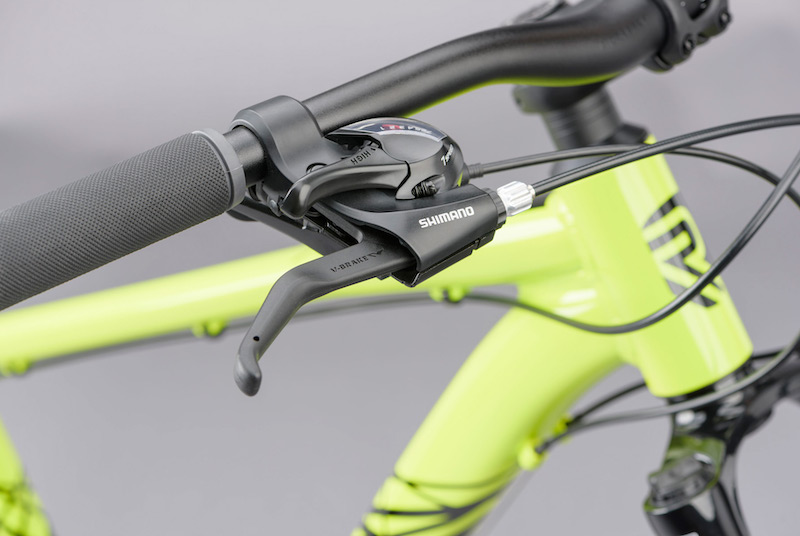 Riding the Terrain 3
The components in the Terrain 3 make it as robust as you'll get. With 27.5 Trax tyres, it's plentifully wide for handling all forms of terrain that you could reasonably encounter for when you're ready to leave the path.
I like the weight of this mountain bike. The frame is double-butted aluminium, which means that they are thicker at the welds and able to be thinner overall (saving weight). This provides more strength compared to a steel frame. The disc brakes seem to perform well as expected, too.
Lime green might not be everyone's cup of tea as far as the colour scheme is concerned, but it actually looks nice on this bike.
For mine, the handle bar width is quite wide, and it wouldn't hurt for it to have been made slightly more compact. If you're going through narrow spaces on or off-road, you will want to get used to this first in order to gauge your path ahead.
That's a small complaint for what is, on the whole, a tough and durable mountain bike.
Getting up to decent speeds is possible thanks to the relatively light weight for a mountain bike.
Overall, I feel that the Terrain 3 price tag justifies the quality of the ride. It's a good looking, easy-riding, durable mountain bike that is hard to fault.
Where to Buy the Rideback Terrain 3
You can spec up and buy the Terrain 3 from the manufacturer, Ridgeback, here.
No doubt that you will also be able to find one of these at a local stockist. It's sometimes better to see the bicycle in person before making such purchases.
That's it for our Ridgeback Terrain 3 review; We like the way the bike handles and have added it to our list of recommendations.