A 6 Burner Gas Grill With Plenty Of Power
This is our expert review of the Weber E-670 Barbeque, a powerful 6 burner gas grill with a host of cutting edge features. Capable and robustly constructed, it promises a professional cooking performance paired with excellent fuel economy. An ideal choice for anyone who is serious about their grilling, this durable barbeque guarantees years of quality service. We tested the Weber E-670 Barbeque to find out if lived up to our expectations and whether purchasers could enjoy value for money.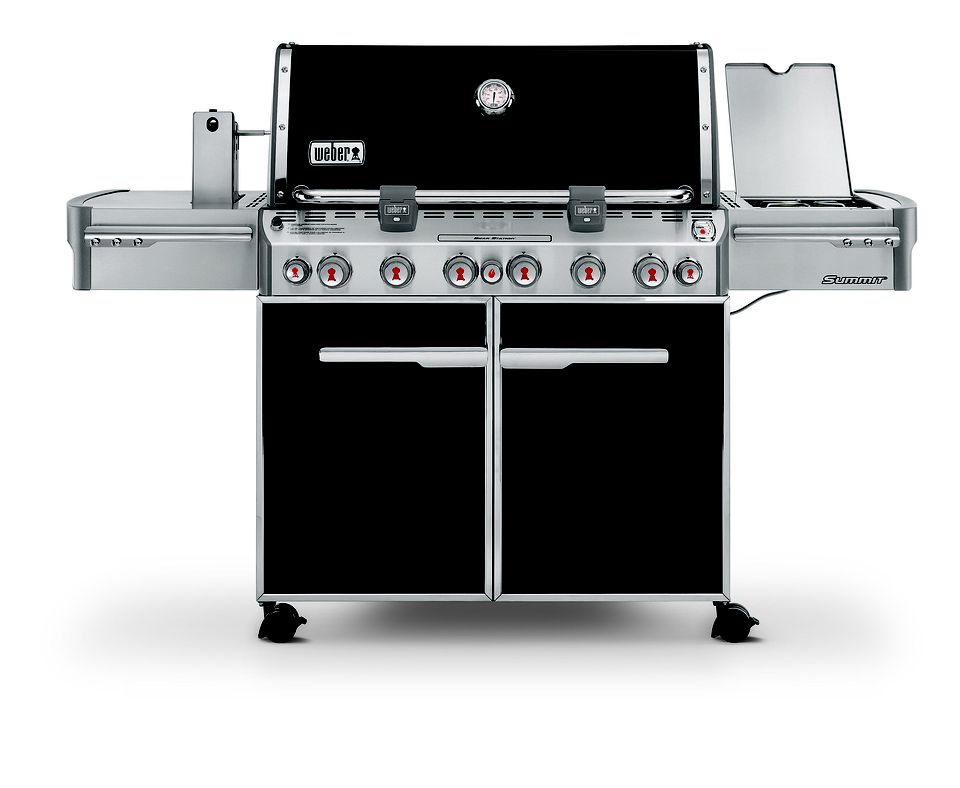 Where can I buy a Weber Summit E-670?
First up, you need to be able to source one of these barbeques, as they can be in high demand and there aren't necessarily that many of them around. These things are large and heavy, so unless you have a huge truck you're going to need it delivered. The good news is that these are available through Amazon (direct link with more reviews here), so you can forget thinking about the logistics and leave it to the experts.
Setting Up
The Weber Summit E-670 Barbeque comes in a number of pieces and requires assembly upon arrival. While this is quite a complex procedure taking around five hours, it is possible to benefit from free expert delivery upon purchase, making the process a lot less onerous and stressful.
Using the Weber E-670 Barbeque
This impressive gas grill is large, capable and appealingly designed to take pride of place in any back garden. It comes complete with six burners including a smoker burner, side burner, sear burner and a rear-mounted infrared rotisserie burner.
Known for their high quality manufacturing, Weber produces grills which can provide optimal heat using minimal fuel while ensuring an even and professional cooking finish. Whether you simply want to sear the perfect steak or whether you want to cook a whole chicken, this is the ideal barbeque for anyone who is serious about grilling.
For added convenience, the rear-mounted rotisserie motor can be tucked away inside the grill and there is also cabinet space available for storing the forks and rod. Even better, the infrared rotisserie burner has a downwards angle to its mount, so it stays cleaner during use while ensuring evenly distributed heat.
This grill is easy to maintain and to clean thanks to its removable grease tray and catch pan which can be slid easily out of the unit. The flavorizer bars, which lend an even better flavour to the food, are durable and are also very easy to care for with no need for seasoning. The burner tubes have also been specially designed to be low maintenance, requiring only periodic brushing with a stainless steel brush to keep them in good order.
There is a 10,600 BTU sear burner mounted in the middle of the grill which boosts the heat in the grill's centre for effective searing without reducing the overall grilling area, while there is also a smoke burner built in to the grill with a smoker box that has sufficient capacity to produce several hours' worth of smoke. The clever configuration of the burners allows the user to cook slowly over a low heat in an extremely controlled way while producing a more authentic barbeque flavour. The inbuilt side burner allows the user the convenience of multi-tasking to speed up food preparation, and with its flush mount, it will never get in the user's way while grilling.
The Weber E670 has been well constructed from quality materials including porcelain enamelled steel and cast aluminium. With its superior materials and strong welding, this is a grill with a long lifespan. It also comes complete with a battery powered grill light mounted in its handle for better user visibility while cooking.
As you would expect from a product made by such a reputable company as Weber, this grill comes with the protection of a strong manufacturer's warranty and 24/7 customer support 364 days per year.
Weber E-670 review: Main features
Six stainless steel burners ensure even distribution of high heat
High quality construction from stainless steel, cast aluminium and enamelled steel ensures durability and efficient output
Excellent manufacturer's warranty and customer support
Available in a liquid propane or a natural gas version
Rotisserie motor with tuck-away feature
Easy-clean infrared rear burner
Smoker burner for a more authentic barbequed flavour
Battery powered, handle-mounted grill light
In-built thermometer for extra convenience
2 work areas made from stainless steel
6 hooks for tools
Heavy duty castors for easy movement with front locking mechanism
Separate storage area for the rotisserie fork and spit
Stainless steel flavorizer bars
Lighted front-mounted control panel
Snap-Jet burner ignition system with individual controls
Fuel gauge
Easy-clean removable catch pan and grease tray
Weber E-670 Barbeque Specifications
30" in length x 74" in width x 57" in height
5-year manufacturer's limited warranty
4 12,200 BTU 304 tubular burners
468 square inches of grilling space
Main burner output of 48,000 BTU
Side burner output of 12,000 BTU
Infrared rear-mounted rotisserie burner with output of 10,600 BTU
Sear booster burner with output of 10,600 BTU
Internal smoker burner with output of 6,800 BTU
Conclusion
The Weber E670 Barbeque offers all of the quality and impressive performance that you would expect from this leading brand. Durably constructed from only the highest quality materials, this grill will withstand many years of use, and thanks to its many excellent features, it presents the ideal solution to outdoor food preparation.
Its powerful gas burners produce great tasting, perfectly cooked food, while its versatile burner arrangement allows several types of food to be prepared simultaneously. The tuck-away rotisserie is an especially welcome feature, allowing the user to cook whole joints with ease.
The infrared rotisserie burner has been rear-mounted for extra space-saving potential, and thanks to its downward angle, it remains easy to clean while distributing the heat more evenly for a perfect result. The stainless steel preparation areas turn your back garden effortlessly into an outdoor kitchen, while the cabinet style construction ensures adequate storage, not only for the rotisserie forks and rod but also for any other items that you plan to use.
As every burner can be individually operated and controlled, the user can have ultimate control over their food production, and the inbuilt smoker burner gives a more authentic charcoal feel to the finished product.