It's always useful to have a container that keeps food and drinks cool in the summer and warm in the winter. In this EPP Thermobox Eco Line review, we put the large insulation container to the test.
Thermobox: Handling
The Thermobox is made completely of what looks like black styrofoam, with no inner lining or no outer lining. In fact, the technical term for the material is expanded polypropylene (hence the EPP).
It is not like Thermos or Igloo Box, where the outside and inside lining are solid plastic. So, the Thermobox could potentially be chipped, dented, ripped, squashed if you are not careful.
However, the EPP Thermobox is very lightweight and provides excellent insulation. It also feels very robust, despite this. And, so far after months of use, it's still 100% intact.
This box must be what takeaway drivers use to deliver bags or boxes of food from restaurants. The Thermobox would be handy for delivering hot meals to a guest house and leaving it on the front door. It keeps the food inside warm and protected from animals or dirt.
The lid lifts off and is easy to release by using your fingers underneath to stick into indentations in the box just under the lid so that you can get a grasp and leverage from underneath.
There is an indentation for carrying which makes a slight handle. I've found that the box is easy and lightweight to carry.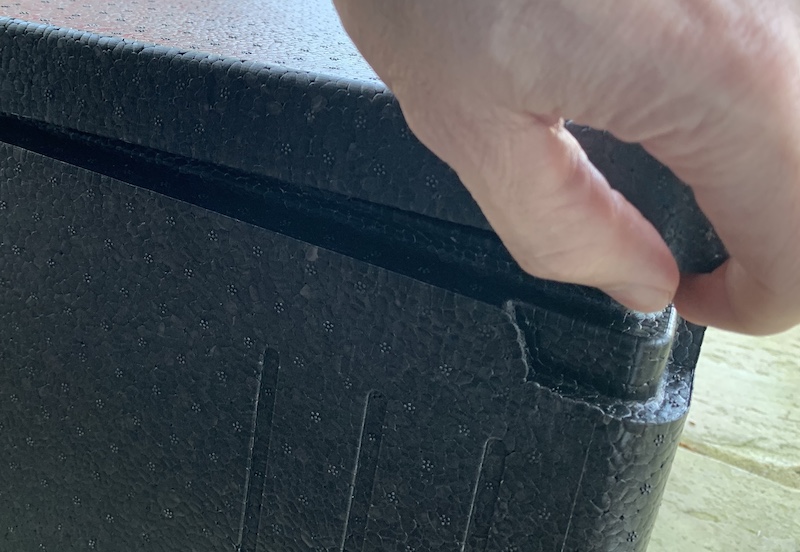 What the Eco Line Can Take
Two meals for two people can be packed into this box easily. I've placed the food plates onto a tray to keep the box clean inside. There is a lot of space inside this box in the height.
So, for example, a small bottle of drink can easily fit inside as well as the food mentioned above. Another option would be if you were stacking items inside.
Dimensions
I've found that the box is a decent size for holding quite a substantial amount of items. Here are the precise dimensions as advertised:
The external dimensions (Length by Width by Height) are 60cm x 40cm x 30.5 cm
Internally, the dimensions (Length x Width x Height) are 54.6cm x 34.6cm x 24 cm
As you can tell from the difference in the above dimensions, there's a lot of padding which really helps with the insulation.
In total, it has a 45 litre capacity.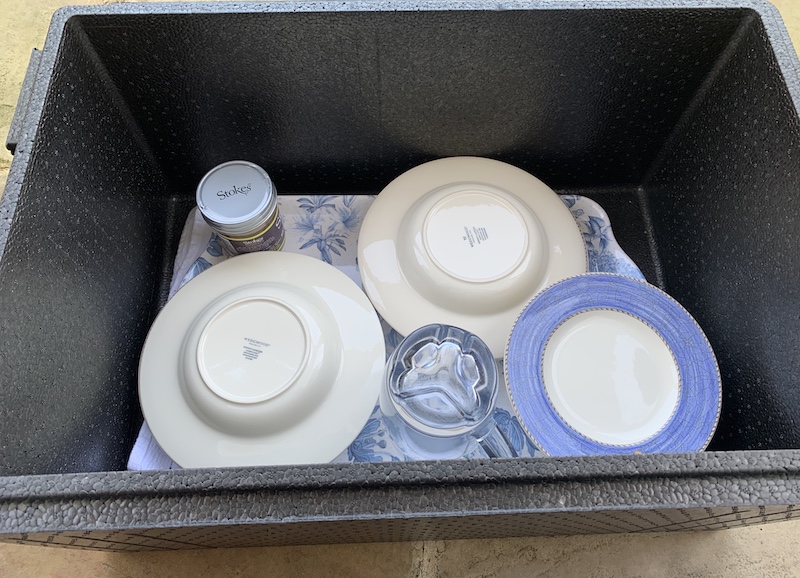 In a pandemic, this box is handy for delivering food and keeping it hot and clean to someone who is self-isolating. The Thermo Box box is also useful for going in the back of the car for taking your picnics along or bringing hot food home from a takeaway restaurant.
Cleaning the Thermo Box
At some point, this box is going to get something on it that needs cleaning off. Most likely, that is going to be food.
Thankfully, this is straightforward because you can simply wipe it with a soapy sponge and hot water on a cloth and gently wipe dry. The spec mentions that the box can also be cleaned in the dishwasher.
I have to say that I've not tried that you'd need a fairly huge dishwasher to accomplish that, too.
Final thoughts on the EPP Thermo Box Eco Line
We have not been able to test how long this box may last, having written this review after about 3 months' use. It is lighter weight than the well-known plastic boxes on the market (but they are likely sturdier).
The Thermo Box Eco Line is a cheaper option than plastic boxes regarding price. It also seems to have a larger internal capacity than similar-sized Thermos or Igloo boxes.
Overall, I'm very pleased with the EPP Thermo Box Eco Line and recommend it.