Le Creuset is a well-known kitchen cooking brand with a very recognisable style. They do a range of saucepans in serveral sizes to accommodate a plethora of cooking needs.
In this Le Creuset TNS Saucepan with Helper Handle review, we give you our opinion on what we think about one of the larger saucepans in their range.
Features & Dimensions
First off, let's explode the acronym. TNS stands for 'Toughened Non-Stick', meaning you should expect just that from this saucepan.
There are three sizes to choose from:
| Size (Width) | Capacity | Total Width | Total length | Handle Length | Height |
| --- | --- | --- | --- | --- | --- |
| 16 cm (inner rim width) | 1.9 litres | 17.1 cm | 38.97 cm | 18 cm | 15.81 cm |
| 18 cm (inner rim width) | 2.8 litres | 19.1 cm | 43.03 cm | 20 cm | 17.96 cm |
| 20 cm (inner rim width) | 3.8 litres | 21.1 cm | 45.1 cm | 20 cm | 19.2 cm |
The helper handle is 5cm in length and the lid is made of heat-resistant glass.
The saucepan is made of forged aluminium and comes with a lifetime warranty.
Before Using the TNS Saucepan
Before first time use, you're directed to wash the saucepan in warm soapy water before thoroughly rinsing and drying it. Then, the non-stick surface needs to be conditioned.
To condition the pan's interior (the non-stick part only!), you coat it with vegetable oil using a paper towel. Then rinse it off with hot water and dry it.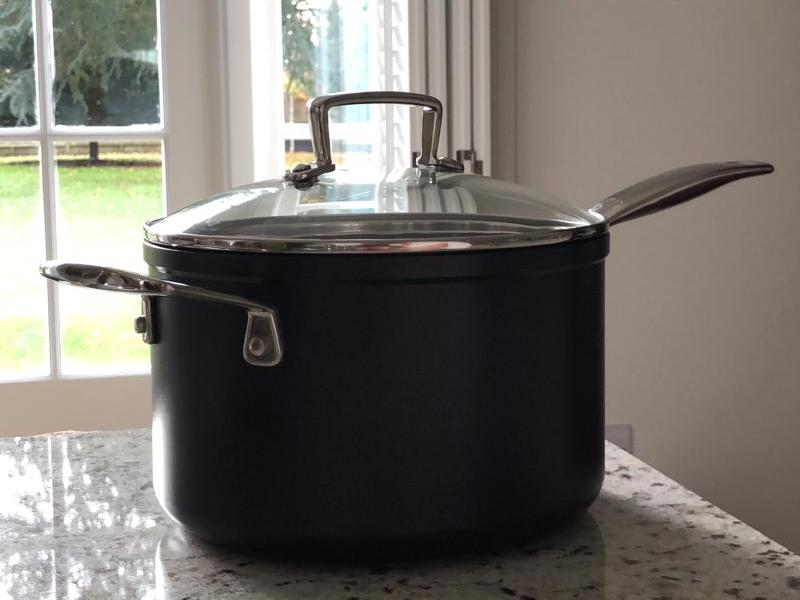 How the Saucepan Stacks Up
I thoroughly test kitchen items for a period of at least a few months before giving a product verdict.
In short, we absolutely love this Le Creuset pan here at Review It. We've found that this saucepan is very good for making milk-based sauces.
It is larger than your usual little milk pan, so you can easily make a lovely home-made cheese sauce for e.g. a family of five, or indeed much larger meals.
Whats also nice about this saucepan is that there is no need to use oil when cooking. So, you can fry with it even on a medium to low heat setting.
Fat-free cooking is a real bonus, and you just need to ensure that the pan is pre-heated prior to adding in the food.
Because of the heat-resistant glass lid, there's no need to keep lifting and checking – just look right in.
A word of warning is not to let the non-stick surface overheat. Doing so might mean that the non-stick part could be damaged.
Flexible Cooking Surfaces
The Le Creuset TNS Saucepan is a very solid item that works on the induction stove. It has a good size and circumference for sitting on the average ring size of the induction service stove.
If you don't have induction, it will be just as useful in an oven, on a grill, on a ceramic glass cooktop, gas or electric hob.
It fits on the stove perfectly and is made of high-quality materials. When using the TNS Saucepan, you get a feeling that you are using a really dependable pan that should last a lifetime.
As far as I am concerned, Le Creuset is a brand that is right at the very top of kitchen quality standings.
The saucepan is also nicely high-sided so you don't easily end up spilling onto your glass induction stove top.
Post-cook Cleaning of the Saucepan
As advertised, it is non-stick and very effectively non-stick at that. Like most cooks that prefer the cooking and eating parts, I was pleased to find that it goes in the dishwasher, too.
That said, it's rather large in terms of taking up room in the dishwasher, so you might prefer to simply hand wash. Because of the effectiveness of the non-stick coating on this pan, it's absolutely easy.
Just make sure that the pan is fully cooled down before cleaning. It's worth noting that if you do decide to hand wash this saucepan, its non-stick surface will last longer compared to putting it in the dishwasher.
Where to Get the the Le Creuset TNS Saucepan
This is available direct from Le Creuset and the details can be seen here.