Address: 10 Basinghall Street, London, EC2V 5BQ
A superb City breakfast venue inspired by Antifogmatics, The Hawksmoor oozes style and early morning suits. A delicious menu of breakfast classics downstairs awaits. If you fancy an early tipple, go for one of the drinks such as the Corpse Reviver no. 2.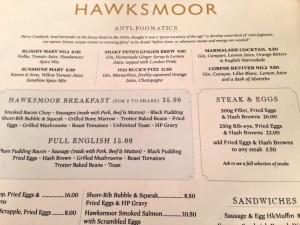 Highly recommended for taking business clients to, this is a hidden underground gem. Friendly and helpful staff make the experience all the more pleasurable, and The Hawksmoor has this covered.