Many of us decide to take our fitness (or lack of it!) into our own hands at some stage, rather than spend a lot of money on a gym membership that we can't quite justify.
One of the most sought-after types of fitness equipment is a running machine, and here we look at the Power 525i treadmill from Pro-Form and answer the common questions – from someone who has extensively used one and put it through its paces (so to speak).
Power 525i Features and Specifications
Mains power supply
31 exercise programmes (20 pre-set)
Weight: 82 kilograms
Maximum user weight: 125 kilograms
Folded dimensions: 94cm length, 83cm width, 168cm height
Unfolded dimensions: 183cm length, 83cm width, 160cm height
5 year motor warranty, 2 year parts and labour warranty
ProShox cushioning technology
Precision machines and balanced non-flex rollers
Running area of 140cm x 46cm (generous)
Zero-10% incline
Up to 18 km/hour (11 mph) top speed
Built-in sound with dual speakers, audio port for iPod/MP3 player
CoolAire workout fans
Fitness tray
Integrated tablet holder
Transport wheels
Is it a Folding Treadmill?
It is. You need to make sure that the incline is on level 0 (flat) before folding it up. To fold it up, you simply lift the running section until you hear the 'click' of it locking into place.
To fold it down again, you put your foot on the hydraulic bar and gently lift then lower the running section down. In fact, at this point, you can let go of it, too, as it slowly and gracefully descends to the ground without causing any damage to the unit (a bit like a soft closing drawer does).
When it is folded up, it does not sit quite flush to the body of the machine, so you will need to give yourself a bit of space for storage if, for example, you are keeping it in this folded position for a long period of time such as in the garage.
In fact, when folded it is still 94cm in length, so that's quite a lot of room to take up. Hopefully, you will actually end up using the treadmill often rather than folding it away and forgetting about it!
Where to Buy the Pro-Form Power 525i Treadmill
It can be purchased direct from the manufacturer, Pro-Form.
Power 525i Assembly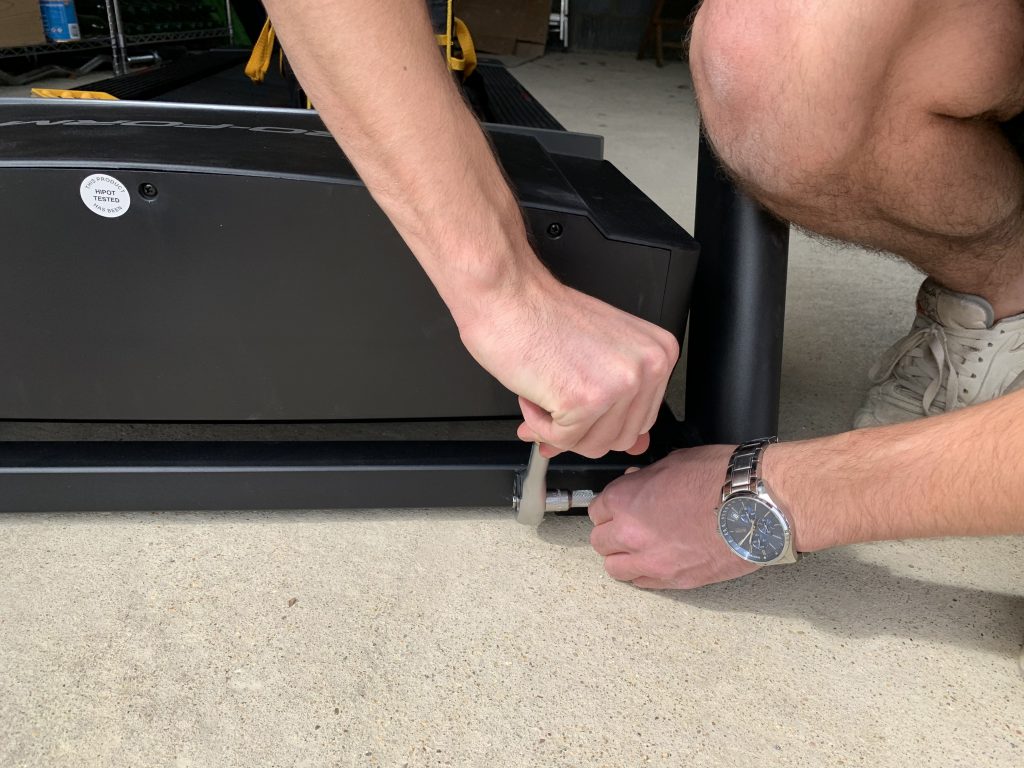 One thing that you will need to be ready for it the assembly process – and you'll want to have two people available for it, too.
You will also need to reserve a couple of hours of time to do the assembly in. That's at least how long it took two of us! Maybe even 3 hours, in fact.
Anyway, it's all for the end product of getting fit, so how could we complain?
One thing that you will definitely want to take note of is to keep the components of the 'Hardware Kit' (pictured below) in the pre-packed positions that they arrived in.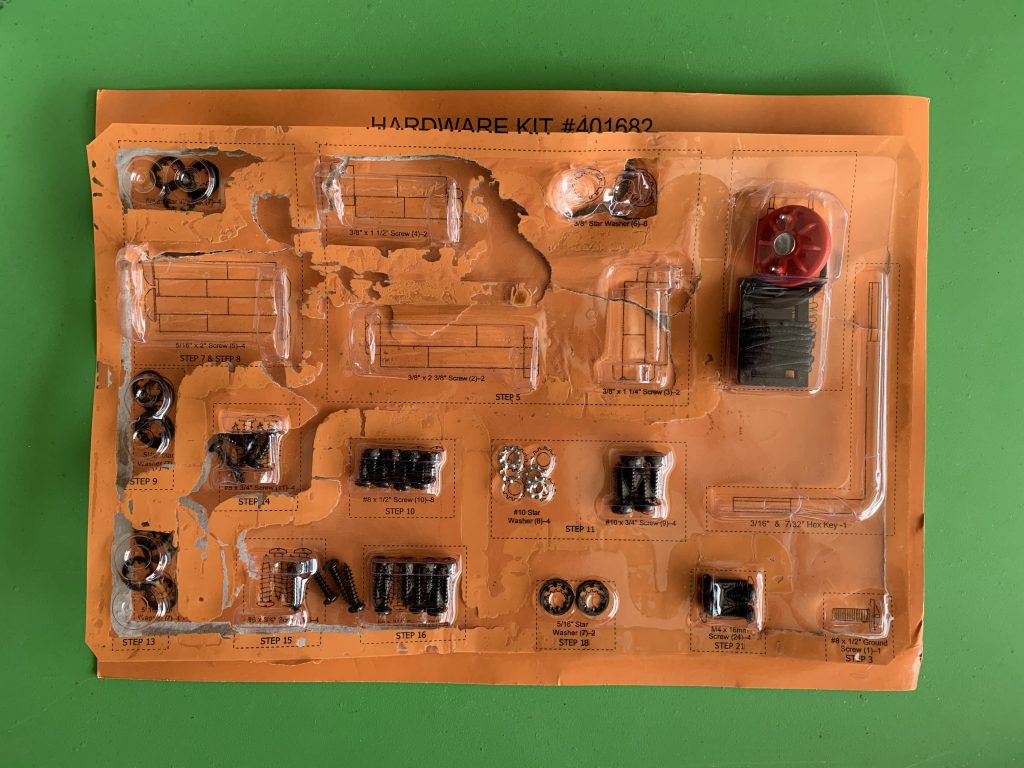 Slowly tear back the plastic to ensure that the screws remain in their places – that's critical for when you follow the instruction booklet that comes with the treadmill kit.
If you do that, it should be plain sailing in terms of what to do during setup. It doesn't take much concentration to follow the instructions, and they are fairly well written to be fair. Just read them properly!
How Does it Perform?
In short, really well. This is a high-quality build machine that is comfortable to walk and run on thanks to the well-cushioned deck. We have had 4 regular users of it – which started at the beginning of the COVID-19 lockdown in early 2020.
It's relatively easy to operate and has a generous running area in my opinion. You can feel that the engine itself is also powerful (no signs of strain at all).
There is little movement once you are in full running mode, although you should expect a little bit of vibration when really going for it.
The fact that this comes with so many on-board running workouts built-in is a bis plus, so any member of the household will likely find one that suits them right away.
That said, you would likely expect such quality from one of the bigger names in home treadmill manufacturers like Pro-Form.