Sometimes it's useful to have additional refrigerator space to access items that need to be kept cold. You can't exactly extend an existing fridge, so smaller fridges come into the frame.
We decided to do a Russell Hobbs Table Top Mini Fridge review to see if it is suitable and reliable – and just what it can hold.
Specifications
For a small fridge, the Russell Hobbs Table top Mini Fridge certainly does come with a lot of features that you might not expect. Here is a summary of what you get:
Height 63cm
44.5cm wide
Depth 51.1 cm
66 lites capacity
A+ energy efficiency rating
Reversible door
Two wire shelves
Ice box/mini freezer
Size Matters
Mini Fridges can come in all manner of sizes and it's important to do one's homework in advance to work out how many litres will be needed.
The Russell Hobbs Table Top Mini Fridge is 66 litres which is on the larger scale for mini fridges. So what can it typically hold?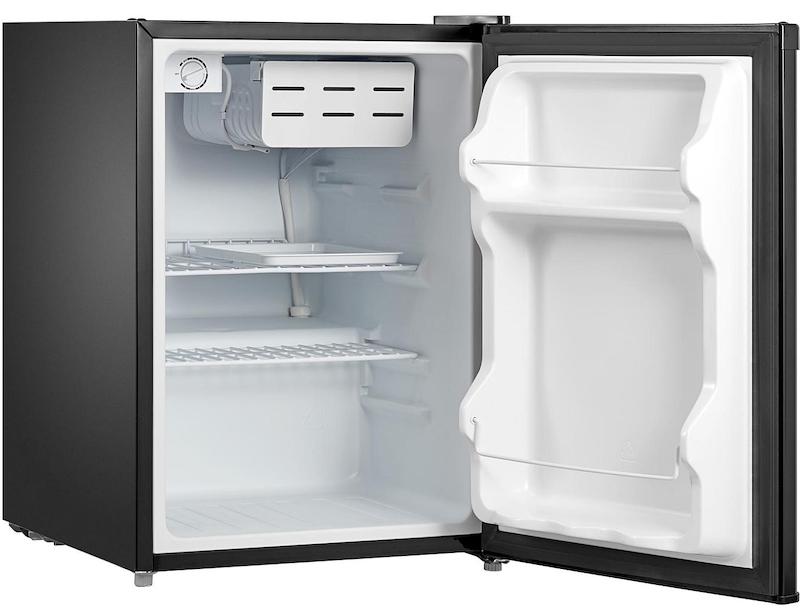 What fits?
You can comfortably fit a 2 litre milk bottle into the door area of this fridge. In fact, two of them. Above that on the door's top built-in shelf, 2 packs of butter easily fit side by side.
Regarding the inside (bottom section), a 2 litre box cask of wine, some (stacked yogurt pots) and loose items can be stored.
The upper shelf abuts the freezer area, so small items such as drink cans or bottles can be made to fit here.
The freezer/icebox is pretty small so ice is the ideal tenant here. Having said that, if you're able to buy small-sized ice creams, they would also go in without any real issues.
This promo video gives you a good idea of what to expect from the Russell Hobbs Table Top Mini Fridge, with some well-stacked drinks:
Final Thoughts on the Russell Hobbs Table Top Mini Fridge 66l
This mini-fridge is very quiet indeed and available in black or white. It's ideally suited to being used as an office fridge.
The door can be swapped over to be made to open from the opposite side. It comes with a left hand opening action (i.e. the door hinge is in the right-hand side by default).
At the end of the day, it's a mini-fridge and it should do what it's supposed to do. There haven't exactly been mega advances in refrigeration technology recently except for making them more and more energy efficient.
And that's exactly what this is good at. It costs next to nothing to run, has ample removable shelving and includes a tiny freezer compartment. It's all you would probably want from a mini-fridge and it comes highly recommended.
If there are any issues with this fridge during the test review period, we'll update this page accordingly.